Jeweler's Touch Ankle Bracelet Style Guide
An ankle bracelet, or anklet, can be worn with casual or formal outfits. It can be slipped on whenever you want to add to your style or convey some type of significance. Whether you choose to wear an anklet with jeans, capris, shorts, or a skirt, you can use our style guide to find the right one for you.
How to Wear an Ankle Bracelet
The bracelet should not be worn over socks, pantyhose, or tights; only on bare legs. Shoes should be selected that won't clash with the jewelry. For example, anklets aren't suited for being combined with ankle-strap shoes. They can be worn on the left or right ankle and fit loosely or more snuggly. Just be sure it's not so tight that you are uncomfortable, or too loose that it might be lost.
What Ankle Bracelets Can Symbolize
Anklets have been used since Ancient Egyptian times.
Sumerians
in the Middle East used them to represent a social hierarchy. In India, women have worn them with charms that make noise to get their husbands' attention. Today, women and men wear anklets for various reasons.
Wearing a bracelet on the right ankle can convey that you are married or in a relationship. On the left ankle, it can signify you are protected against diseases.
Anklet color has significance as well. A white anklet symbolizes purity and innocence while a yellow anklet represents energy, sociability, and good fortune. Blue symbolizes talent and intelligence, red shows competitiveness, and green conveys calmness, balance, and luck. A pink anklet is a symbol of love and romance while a black one can symbolize secret-keeping.
However, in Western societies, ankle bracelets are less likely to represent meaning than to be used for aesthetics. 
Types of Ankle Bracelets
There are so many types of anklets to choose from. Here are some of the types you might find:
Beaded Anklets: Fun and casual and suit just about any kind of outfit. They're usually water-resistant so considered great beach accessories.
Chain Anklets: Simple in design, they can be worn with casual or festive clothes, as well as used individually or layered. Some chain anklets include beads or pendants.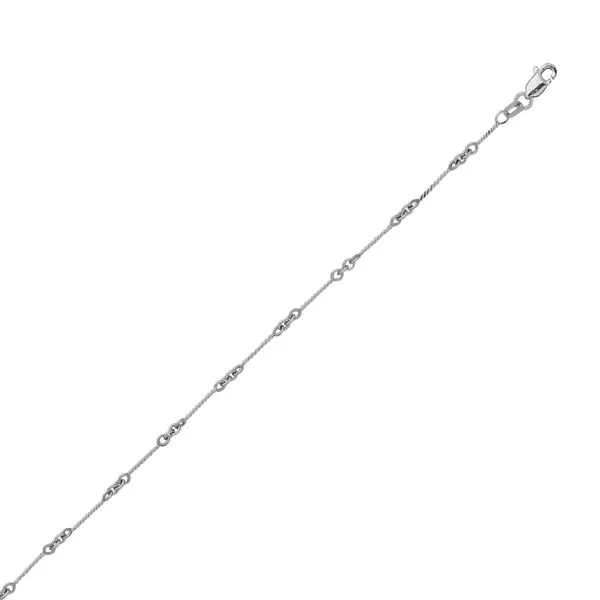 String Anklets: Feature a simple, low-key design that's nonetheless considered stylish. The subtlety suits them for various occasions and uses with different types of jewelry.
Leather Anklets: Provide an edgy look and are always fashionable, whether worn with jeans, shorts, or skirts. Some have closure for easy adjustment.
Gold Anklets: Gold is durable and can be worn with just about anything. Simple and embellished designs are available but provide sophistication for any look
Silver Anklets: Sterling silver can be made into many types of shapes. Silver in general is popular for ankle bracelets that can be simple or decorated with charms.
These aren't your only options, as there are many trends, including barefoot ankle bracelets often worn for walks on the beach or a dance recital. Tennis anklets, wider cuff anklets, and elastic cord anklets are other choices to consider.
Ankle Bracelet Sizing
You can wear an anklet low on the ankle or higher up. To properly size one, measure just below where the calf and heel meet. Anklets come in different lengths so it's important to determine the right size, or it may not fit properly. For anklets above the bone, measure above the ankle bone and add ¼". For those below the bone, measure below the ankle bone and add ¼" to ½".  

 
Shop for Anklets at Jeweler's Touch
At Jeweler's Touch, we provide a wide range of high-quality jewelry from leading collections. We also provide jewelry repair, appraisal, and financing. Custom design services are available as well. If you're looking for the perfect ankle bracelet, a necklace, a set of earrings, or an engagement ring/wedding band, check our online catalog or contact us with your design ideas. Call 714-579-1616 to learn more.