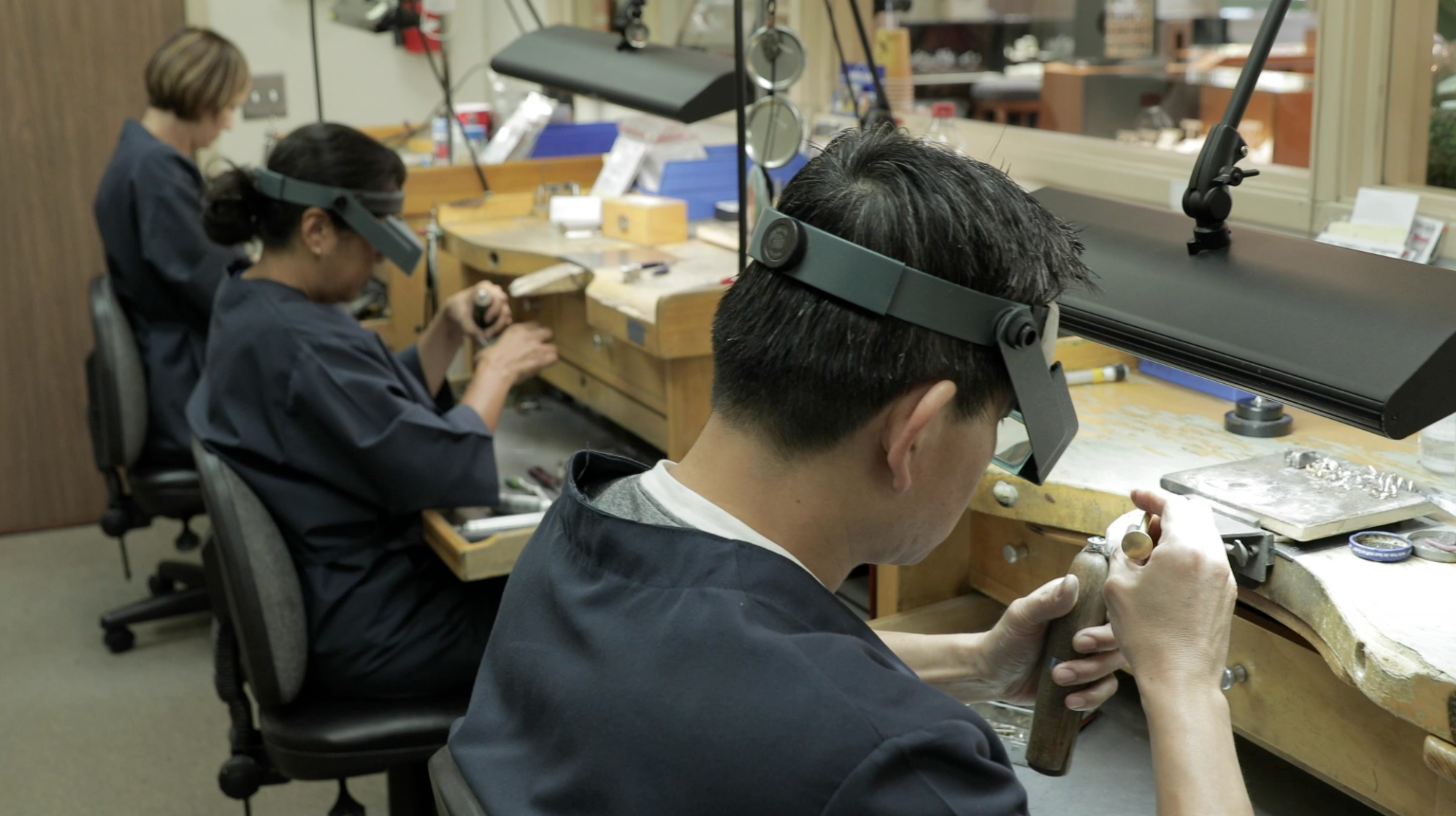 custom Studio & Repair services
Jewelry is sentimental. We understand this and take every precaution treating your treasures with the upmost care. Jeweler's Touch is conveniently located in Orange County serving the cities of Brea, Placentia, Fullerton, Yorba Linda, and all of the Southland.
Jewelry Repairs are completed in our on-site studio. Seven expert jewelers and goldsmiths on staff.
GIA gemologist on-site for appraisals.

Jewelry Repair
We can repair any piece of jewelry! Simple ring sizing to refurbishing a ring that went down the garbage disposal. We've got you covered! Jewelry repairs are completed on site by our expert goldsmiths and come with a one-year warranty. Most repairs are completed in 3-5 days. Our repair services include but are not limited to necklace, bracelet, earrings and ring repairs including fashion and vintage pieces. Diamond and precious stone replacements, bead and pearl restringing, rhodium plating, and engraving.

Complimentary jewelry cleaning and inspection
Having your jewelry inspected is an important step in preventive maintenance. We recommend having your jewelry cleaned and inspected about every six months. We offer this service free of charge. Come in at your convenience.

While you wait jewelry repairs
Make an appointment and watch your jewelry being repaired by one of our expert goldsmiths. Comfortably watch through our 24-foot gallery window!
Make an Appointment

Custom Jewelry Design
If you can imagine it, we can create it! Our team of experts will help you bring your vision to life in a one of a kind piece of jewelry.
Learn More

How Do I Get my Jewelry Repaired?
The process is simple! Bring in your broken jewelry. One of our experts will immediately inspect it thoroughly, go over the options to complete your repair and give you a price quote. This consultation is always free of charge and you are under no obligation. You can make an appointment or just stop by anytime.

We buy gold, platinum, silver and diamonds
Have old jewelry you never wear? An earring with no match? The diamond from a broken relationship? Bring it in! We'll give you a free quote to buy your gold, silver, platinum, diamonds, Rolex and estate jewelry. We even pay cash!
Learn More

Your Jewelry is Safe
Once you give the go ahead and leave your jewelry with us, we take pictures of your items and include a detailed description for both our and your records. Your jewelry is always insured when it is in our possession.

Watch battery replacement & band sizing
Most watch batteries and watch sizing can be accommodated while you wait.

Five Point Quality Control
The quality of our craftsmanship is important to us. Every piece of jewelry goes through our five-point quality control inspection process. Our jewelry repairs come with a one-year warranty.

Watch Repairs
We have a Watchmaker who will expertly service and repair your watch. We'll give you a free estimate before work begins and average repair time is two weeks or less. All work is guaranteed for one year (terms available upon request). We repair most models and often a simple watch sizing or battery replacement can be completed while you wait.

Laser welding
Staying up to date on technology is important to us at Jeweler's Touch. We have a laser welder to complete some of the more difficult tasks such as working on platinum or refurbishing rings that were once unrepairable.

Appraisals
Having your jewelry insured protects you from loss or theft. We strongly encourage you to get insurance. Jewelry appraisals are offered weekly by appointment with our Graduate Gemologist. We offer appraisals for insurance, estate, probate, liquidation, and divorce purposes.
LEARN more