ABOUT Rahaminov Diamonds Inc.
Learn about the brand
For more than 70 years, family-owned and operated Rahaminov Diamonds has been a trusted supplier of beautifully cut rare diamonds to the trade and to fine jewelry retailers worldwide. Tamara Rahaminov and her husband Amir Goldfiner, who met while studying at the Gemological Institute of America, opened the Los Angeles office in 1989 and steadily evolved it from a fine diamond house to a luxury brand of exquisite diamond jewelry. Tamara's designs have received critical notice, winning numerous awards including the prestigious 2016 Grand Prize JCK Jewelers' Choice Award for its dazzling Rosé ring. Today, a third generation has come on board, with Amir and Tamara's daughters Nicol and Melanie Goldfiner, bringing their modern sensibilities to the Rahaminov Diamonds brand. Headquartered in the heart of Downtown Los Angeles, Rahaminov Diamonds continues to thrive, strengthening its reputation for superb diamonds and sophisticated jewelry. Amir's personal relationships with customers and Tamara's remarkable designs have built the company diamond by diamond. Tamara, herself a successful designer, entrepreneur, businesswoman, wife and mother, clearly understands what today's woman wants to wear–she is that woman. Each piece of Rahaminov Diamonds is rare and breathtaking, a timeless jewel sure to be treasured from generation to generation. Rahaminov Diamonds' designs are executed in platinum and 18 karat gold and incorporate classic white and fancy color diamonds. The collections feature both meticulous and unusual cuts that are expertly faceted to highlight and enhance each diamond's shape. Rahaminov Diamonds sells exclusively to the trade and has a proud tradition of unsurpassed customer service. Each design is proudly manufactured locally in Los Angeles and is available at select fine jewelers nationwide.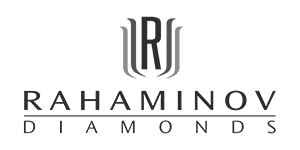 Shop All Rahaminov Diamonds Inc.
SHOP Rahaminov Diamonds Inc.
RINGS
JEWELER'S TOUCH IS AN AUTHORIZED RAHAMINOV DIAMONDS RETAILER
Come in to try on any Rings from the Rahaminov Diamonds collection.
MAKE AN APPOINTMENT